Fresh off a mega contract, Calvin "Megatron" Johnson has landed the coveted cover of "Madden NFL 13."
The Detroit Lions wideout beat out second-year Panthers quarterback Cam Newton for the honor. The vote was announced Wednesday afternoon on "SportsNation" on ESPN2.
https://www.youtube.com/watch?v=<a href="http://www.youtube.com/watch?v=RWkt793NdJw">http://www.youtube.com/watch?v=RWkt793NdJw</a>
Johnson, who won by garnering 52 percent of the more than 651,000 votes cast in the competition, said he was "shocked" by the decision.
"Man, it's great," a smiling Johnson said. "Just to see yourself on this Madden (cover) and seeing all the guys that have been on Madden? C'mon, man."
Although hugely popular, the video game carries the stigma of a "Madden Curse."
Running back Peyton Hillis, then a member of the Cleveland Browns, won the fan vote last year, but was plagued by injuries and controversy in a hectic 2011 season. Hillis said before winning the "Madden NFL 12" cover that he wasn't afraid of the curse, but after rushing for just 587 yards last season, Hillis said in December that he now believes in the cover jinx.
Johnson is coming off a spectacular season in which he caught 96 passes for a league-best 1,681 yards and 16 touchdowns. He became the third player in NFL history with at least 95 receptions, 1,600 yards and 15 touchdowns in a season, joining Jerry Rice and Randy Moss.
The Lions, who made the playoffs last season for the first time in a dozen years, rewarded the former No. 2 overall pick with an eight-year deal worth up to $132 million dollars in March.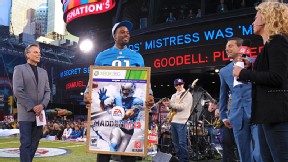 Joe Faraoni for ESPN.comCalvin Johnson, center, won the Madden cover by garnering 52 percent of the more than 651,000 votes cast in the competition.
Newton set the NFL on fire in his rookie season despite taking a crash course in mastering an NFL offense after a lockout wiped out most of the offseason. After being taken with the No. 1 overall pick in last April's draft, the quarterback that led Auburn to its first national title revitalized the Panthers, setting an NFL record for rushing touchdowns in a season by a quarterback (14) and becoming the first player in league history to throw for 4,000 yards and rush for 500 in the same year.
The former Heisman Trophy winner was then named the AP NFL Offensive Rookie of the Year after the season.
Other players to have appeared on the cover of the EA Sports game include Marshall Faulk, Michael Vick,Ray Lewis, Brett Favre and Drew Brees.
The competition for the cover drew nearly 20 million votes, with Johnson beating out Dwayne Bowe, Arian Foster, Rob Gronkowski and Aaron Rodgers before the final showdown with Newton.
ESPN News Services. "Calvin Johnson Wins Madden Vote" ESPN. 25 April 2012. Web. 
View original article at ESPN.com:
http://espn.go.com/nfl/story/_/id/7855439/calvin-johnson-detroit-lions-wins-madden-13-cover-vote-carollina-panthers-cam-newton