Nationally, Boise, Idaho, is best known for Boise State football. But from the time he was 3 years old, Sam Jacobson was enthralled with hockey. He attended games to watch the Idaho Steelheads, an East Coast Hockey League team based in Boise, and he'd come home and imitate his favorite players on his kitchen floor.
He eventually took to the ice himself when he was just 6 and developed a love for the game both as a player and a fan. But 18 months ago, at age 14, cancer temporarily took the game away from him. Sam was diagnosed with acute T-cell lymphoblastic lymphoma, and the treatments knocked him off the ice.
"He couldn't play immediately after he was diagnosed because of the heavy, heavy chemotherapy," Sam's mother, Amy, said. "He wanted to go and watch his team a lot. Not being able to be out there and play was tough for him."
In December 2010, Sam went to the family doctor because of a persistent cough and swollen lymph nodes. The doctors took a chest X-ray and then ordered an MRI. Rather than sit at home and wait for the results, the family went out for lunch and then shopping, hoping for the best but expecting the worst.
"We were out shopping and as soon as we got the call, I sent Sam to the car and [the doctor] called to confirm what we suspected," Amy said, "but in your mind, you're thinking [the diagnosis] is going to come back better."
Sam began treatment immediately to reduce the size of the tumor in his chest, and one of the first things he asked the doctor was if he'd be able to play hockey. The answer, unfortunately, was no. At his worst, due to blood transfusions and aggressive chemotherapy, Sam couldn't even go outside at risk of infection.
Still, Sam remained upbeat, and by the following summer, the tumor which had once been almost three times the size of his heart was nearly gone. He was able to return to the ice, which is where this past March he got a very special surprise.
With no natural local team in Boise, Sam had become a Washington Capitals fan and quickly developed a love for Alex Ovechkin, the Caps star and rival to the Pittsburgh Penguins' Sidney Crosby.
"There was the Ovechkin-versus-Crosby period of time and he'd always kind of liked the Washington Capitals, so he gravitated to Ovechkin," Amy said. "So, of course, his younger brother liked Crosby."
On a Friday night before one of Sam's hockey games, the public address announcer called Sam to the center of the ice and played a special recorded message from Ovechkin, inviting him to Washington to meet the Capitals.
"He just kind of stood there with a big smile on his face," Amy said. "His brother and sister were jumping up and down. Knowing him as well as I do, I knew he was ecstatic."
[+] Enlarge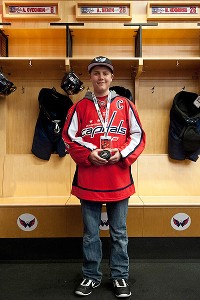 Patrick McDermott for ESPN.comSam Jacobson saw his first NHL games in Washington.
Less than a week later, Sam was off to Washington and the Verizon Center, where he got to watch warm-ups from the penalty box and introduce the team over the public address system. Sam, who'd seen plenty of minor league hockey but never an NHL game before, got to watch the game between the Capitals and the Carolina Hurricanes from Ovechkin's seats.
The next day, Sam and his family paid a visit to the Capitals' training facility, where he got to skate with Ovechkin and the Caps. He even played a little two-on-two; with Ovechkin in net, Sam scored a goal on his hero.
"When they were out there skating, it was just so unbelievable," Amy said. "We just sat there watching, and seeing that your boy is out there skating with one of the greatest hockey players ever, it was just pure fun, pure excitement. To see everybody forget all the other stuff was just pretty neat."
At the next night's game, Sam spent warm-ups on the Capitals bench and even rode the Zamboni between periods. And, as the perfect ending to a perfect wish, Ovechkin ended the night by scoring the game-winning goal in overtime.
Now 16, Sam is in the final stages of his treatment and back on the ice, complete with a new set of gear, courtesy of Ovechkin and the Capitals. Amy said that while Sam does still get tired at times, there are other times when you look at him and wouldn't even know he has cancer. Still, it's been a long journey for the family.
"There are moments that are harder than others," she said. "He makes it pretty easy because he's very strong and doesn't complain and keeps a sense of humor. That probably makes it easier for us than most cases, because of his ability to deal with it."
And after three days around the Russian superstar, Sam's brother, formerly a Crosby fan, has a new allegiance, his mom said.
"He's an Ovechkin fan now."
http://www.youtube.com/watch?v=-oAbeV6TMEU
Reisinger, Adam S.  "Sam skates with Alex Ovechkin". ESPN. 19 July 2012. Web.  
View original good news story at ESPN.com:
http://espn.go.com/espn/features/mywish/story/_/id/8144104/my-wish-sam-jacobson-skates-alex-ovechkin-washington-capitals