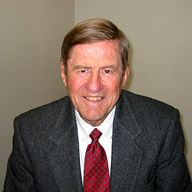 Who's the man? Howard Cooper is the man, the myth and the legend.  Why?  Read on 🙂
Howard Cooper, the owner of Howard Cooper Auto Import Center in Ann Arbor, decided to give his employees a special token of appreciation before he retired.  Cooper, who is now 83 years old, ran his successful auto dealership for 47 years.  In order to give his employees thanks for incredible service, Cooper gave all 89 of his employees $1000 per every year that they were employed!!!!!
On AnnArbor.com, employee Sandy Reagan said, "The lady behind me had tears running down her face. I sat next to a person who drives the parts van and he's been here almost 28 years. He doesn't make a ton of money, but he got almost $28,000.  I watched his face and he just said, 'Oh my God,'"  Reagan, who was been with the company for 46 long years, received $46,000!
His employees gave him a standing ovation when he distributed the checks.  Bob Jenkins, who after 26 years of service received $26,000 responded, "I was shocked.  You don't expect something like that.  The whole place was just in shock."
Howard Cooper sold the business to Germain Motor Co., an Ohio-based company.  His employees sure will miss him!  Cooper stated, "I wanted to thank my employees and that was a way I could do it.  I hope it makes a difference in their lives like they have made in mine."
Cooper definitely knows how to pay it forward.  He has changed the lives of all of his employees.  Way to go Cooper!  Enjoy your retirement!!
Peace & Love,
Jon
– The Good World News