A true sports hero is made with actions both on and off the field.  The undefeated Queen Creek, AZ high school football team is proving that they are real sports heroes as they take Chy Johnson under their wing.
Chy has a genetic birth defect that makes her brain operate at a 3rd grade level.  Students at her high school were making her the point of verbal target practice.  They would call her names and even throw trash at her.  "She'd come home every night at the start of the school year crying and upset," said her mom, Liz Johnson. "That permanent smile she had, that gleam in her eye, that was all gone."
Liz asked Carson Jones, the football team's quarterback, to help get the names of the people that were picking on her.  Instead, Carson chose a move from his personal playbook.  "I just thought that if they saw her with us every day, maybe they'd start treating her better," Carson said. "Telling on kids would've just caused more problems."  The whole football team stepped it up.  Tucker Workman, the starting running back, made sure that someone from the team was always walking with her between classes.  Chy smiles and calls the players, "my boys".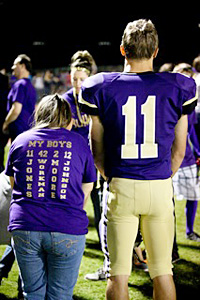 Chy and Carson. Image Credit: Meredith Evans
"I think about how sweet these boys are to her," said Shelly Larson, a volleyball player at the school, "and I want to cry. I can't even talk about it."
Chy takes care of them as well.  Carson got in a car accident and Chy is trying to help him by carrying his backpack.  "I know his neck hurts," Chy said.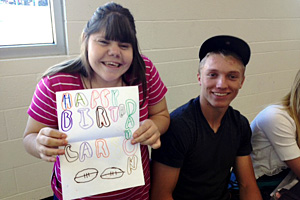 Chy (left) with a birthday card she made for Carson (right). Image Credit: Rick Reilly
Chy's mother, Liz, is forever grateful.  "I thank Carson every chance I see him," she said. "He's an amazing young man. He's going to go far in life."
Way to go guys!!!  What an awesome good news story!
Peace & Love,
Jon
– The Good World News