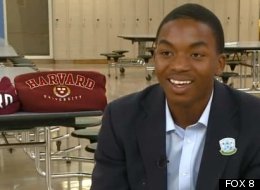 With graduation on the horizon, David Boone knows better things are coming his way.
In the fall, the 18-year-old will head to Massachusetts to attend Harvard University. But for Boone, life hasn't always been easy.
The Ohio native had a rough upbringing in Cleveland, but he didn't let his past determine his future.
Boone blogged about his admissions experience for The Huffington Post, in which he recounted parts of his personal life, including encounters with gangs and temporary homelessness.
At age 14, his home was destroyed by gang members who were upset the teen wouldn't join them. Boone and his siblings had to split up and take shelter wherever they could, because their mother couldn't afford a new house. On some nights, the teen had no choice but to sleep on park benches.
"All of these life lessons have shaped me into who I am, transforming my dreams and aspirations and allowing me to free myself from what was becoming an unproductive environment," Boone stated in his blog post.
Friends and mentors occasionally pitched in with food and a warm bed, but no matter what, Boone remained dedicated to his schoolwork.
Jeff McClellan, principal at Cleveland's MC2STEM High School, admired Boone and offered him a place to stay.
"Here's a kid who's doing everything in his power to get where he wants to go, and we had the available resources to provide a little additional support," McClellan told ABC 5.
Boone was accepted to more than 20 colleges throughout the nation, including a handful of Ivy League universities such as Yale, Princeton and Cornell. But to Boone, Harvard was the best option.
And his mother couldn't be more proud.
"We've been through a lot as a family," Moneeke Davis told the Associated Press. "He's so focused, so driven and so humble."
Boone will attend the prestigious school on a full scholarship, but he has to get through graduation first.
"I promised myself I wouldn't cry. But I realize that that's what everyone does before they cry," he told FOX 8 in a video interview. "I'm pretty sure there's going to be a lot of emotion there."
Learn more about David Boone's experience by visiting his blog.
"David Boone, Cleveland Student, Goes From Homeless To Harvard (VIDEO)" Reuters. 4 June 2012. Web.
View original good news article at huffingtonpost.com:
http://www.huffingtonpost.com/2012/06/03/david-boone-homeless-student-harvard_n_1566191.html